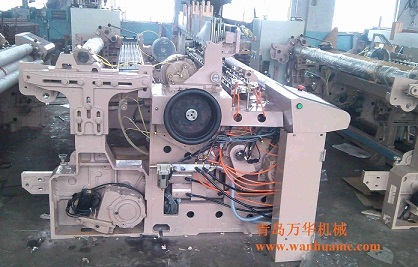 WH9100 series universal air jet loom
Main specifications and technical parameters:
1. The reed space: 190, 210, 230, 250, 280, 340 cm
2. The scope of weaving: short fiber: 100 S / 1 ~ 5.8 S / 1
3. Weft selection: for 2, 4, 6 nozzle , it is easy to change each other.
4. Motor: the super starter motor.
5. Weft insertion: the main nozzle, auxiliary nozzle, profiled reed, optional stretch nozzle.
6. Shedding: for CAM: 2-10 pieces heald frame, for dobby: heald frame 2-16 pc.
7. Let off: electronic let off, the flange: Ø 800 mm
8 Take-up: mechanical take-up, optional electronic take-up.
9. Beating-up: crank type beating-up mechanism
Four linkage beating-up (reed space under 190 ~ 280 cm)
6 linkage beating-up (reed width 280 ~ 360 cm)
Configuration of rocker support stands in the middle
10. Weft frame: for 2 nozzle: four cone yarn ,
For 4 nozzle: eight cone yarn ,
For 6 nozzle: ten cone yarn spray
11. Wring side: planetary gear way gauze wring side (middle)
12. The yarn end processing: adopting the way of catching yarn grip of single yarn
13. Cut the weft: mechanical scissors, optional electronic scissors
14. Come on, the main transmission parts for oil bath, centralized oil butter (manual)
15. The parking device:
Weft broken: photoelectric reflex weft, weft arrival Angle with display function.
Warp broken: electrical contact, six rows dropper
Other: leno yarn broken and processing yarn breaks stop
Parking reason shows: information displayed on the touched screen, multi-function 4 color light displaying the error.
The middle scissors: mechanical (used when weaving double amplitude) .